How would you like to make a cute, homemade Halloween costume with your child this year?
You get everything you need in  this comprehensive ebook 
– Over 90 Homemade Costume Ideas
– Supplies list for each costume
– Description on how to make each costume
– Fun accessories for most costumes
– Ideas for siblings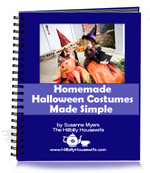 Not only will you be making a great looking costume, but you will also be creating memories that will last a lifetime.  Here are some of the  over 90 costumes that will be covered in the ebook:
•  Alien (p. 9)
•  Astronaut (p. 14)
•  Bumble Bee (p. 25)
•  Cookie (p. 35)
•  Fire Fighter (p. 47)
•  Frumpy Housewives (p.50)
•  Knight (p. 62)
•  Mermaid (p. 70)
•  Race Car Driver (p. 87)
•  Soda Can (p. 96)
•  Zorro (p. 108)
 
Extra – Last Minute Costume Ideas
The Book offers an entire chapter dedicated to last minute costume ideas. These will come in really handy any time you have to come up with a costume really quick. Most of these costumes use items you already have laying around the house. Pull together a great costume in just about an hour.
Get your ebook today an have Fun!